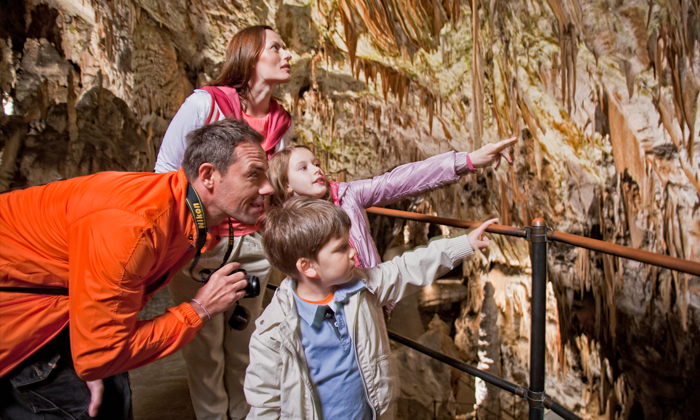 28.50

EUR

Adults

22.80

EUR

Student 16-25 years

17.10

EUR

Child 6-15 years

1.00

EUR

Child up to 5 years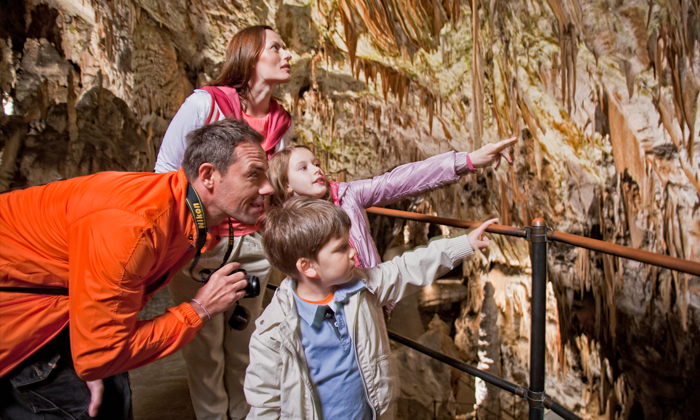 Up until the year 1818, visitors were able to see just over a mere 300 metres of the cave, while today they can in the course of an hour and a half have a look at more than 5 kilometres of awe-inspiring passages, tunnels and spectacular halls.

The tour around the cave starts at the entry platform of the unique Cave railway, where visitors' hustle and bustle is a common occurrence, especially during the summer. To start with, the cave train will take you through an artificial passage, followed by the first natural passage, which turned black as a result of petrol being destroyed during the Second World War. Next seen as part of the tour are two halls, first the Gothic Hall with numerous flowstone creations, followed by the Congress Hall (in the past known as the Dance Hall), which has for almost two centuries been a highly appealing venue for concerts and other events.

While you are admiring the natural sculptures, the train will take you for 2 kilometres to the Great Mountain, where you will get off and continue the tour on foot. An illuminated path will take you over the Great Mountain (the Cavalry) across the Russian Bridge into the Beautiful Caves consisting of the Spaghetti Hall, the White Hall and the Red Hall – all given their names owing to the characteristic colour and shape of stalactites and stalagmites found in there – until you get to the Brilliant Passage, where the most famous stalagmite and the symbol of the Postojna Cave can be seen – the Brilliant.

As part of the walking tour visitors also have a look at an aquarium with the proteus Proteus (also called the olm or the human fish) in the Concert Hall. The tour ends by getting on the train and returning to the surface.

SUITABLE CLOTHING
The temperature inside the cave is constant. Regardless of the time of the year, it remains at around 10 degrees Celsius and both clothing and footwear should be adapted to it. It is possible to hire a warm cloak at the entrance to the Cave. No helmets are needed for cave tours.

GUIDED TOURS
All tours of the Postojna Cave are guided; visitors are presented with the beauties of the cave by Slovene-, English-, German- and Italian-speaking guides. Visitors can also use audio guides available in several different languages.

CAVE ETIQUETTE
For the sake of their own safety and protection of the environment, visitors must obey instructions of the staff at all times.
During the train ride, visitors are not allowed to stand up, lean out and jump on or off the train.
Visitors are not allowed to walk outside off the marked paths. They must stay in the group and with their guide.
Visitors must not touch the stalagmites/stalactites.
Visitors must not throw away any kind of litter.
Visitors are forbidden from taking photographs using flash light and / or tripod.
Smoking inside the cave is strictly forbidden.
Visitors are not allowed to bring food into the cave.