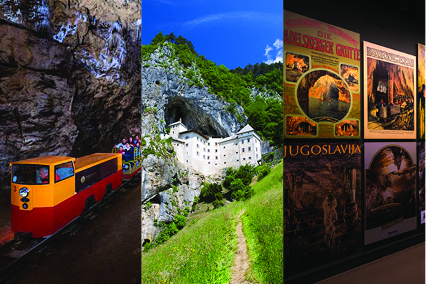 Postojna cave + Predjama Castle + EXPO Postojna Cave Karst
45.50

EUR

36.40

EUR

Student 16-25 years

27.30

EUR

Child 6-15 years

3.00

EUR

Child up to 5 years

Perfect daily plan: visit the Predjama Castle first and see the Postojna Cave in the afternoon.

In package

1x Visit of Postojna Cave
1x Visit of Predjama Castle
1x Visit of EXPO Postojna Cave karst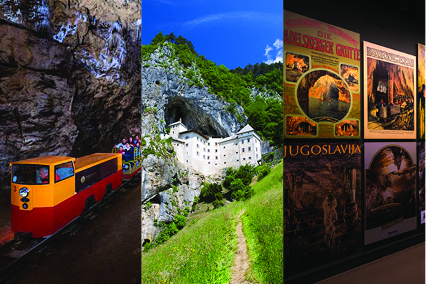 POSTOJNA CAVE
The tour around the cave starts at the entry platform of the unique Cave railway. While you are admiring the natural sculptures, the train will take you for 2 kilometres to the Great Mountain, where you will get off and continue the tour on foot. An illuminated path will take you over the Great Mountain (the Cavalry) through the Beautiful Caves until you get to the Brilliant Passage, where the most famous stalagmite and the symbol of the Postojna Cave can be seen – the Brilliant. As part of the walking tour visitors also have a look at an aquarium with the proteus Proteus (also called the olm or the human fish) in the Concert Hall. The tour ends by getting on the train and returning to the surface.
Suitable clothing
The temperature inside the cave is constant. Regardless of the time of the year, it remains at around 10 degrees Celsius and both clothing and footwear should be adapted to it. It is possible to hire a warm cloak at the entrance to the Cave. No helmets are needed for cave tours.

PREDJAMA CASTLE
This picturesque, magnificent, defiant, mysterious and impregnable castle has been perched up in the middle of a vertical 123-metre high cliff for more than 700 years. Its romantic appeal is further emphasized by the idyllic River Lokva, which disappears into the underground world deep down below the castle.

EXPO Postojna Cave Karst
EXPO Postojna Cave Karst is the largest permanent exhibition about the cave and the karst phenomena around the world.
The exhibition features interactive presentations of contents that speak volumes about the formation and extraordinary history of the tourism-related development of the most famous show cave in the world. Visitors get to learn about the karst and karst phenomena through projections of various contents onto a three-dimensional model, discover the peculiarities of the karst environment and learn about all superlatives and milestones attributed to Postojna Cave on the Wall of Fame.
The exhibition is of interest to visitors who are not familiar with the karst or caves and to experts alike. Special attention is devoted to children, who are guided through the exhibition interactively by the olm and the slenderneck beetle. They can even drive the unique cave train by themselves. Fun and interactive.
Visitors of the EXPO Postojna Cave karst can visit two other exhibitions free of charge: Life in billion years and Butterflies of the World. Three exhibitions for the price of one.
The largest exhibition about the karst and Postojna Cave, as its most unique feature, is staged in the Postojna Cave Park, in the building at the beginning of the promenade.
The time of your tour to Postojna Cave should be within the opening hours on the selected day. Other
sights from the package have to be visited within 30 days. There are no other special conditions or limitations as far as the purchase of combined tickets is concerned.